The 10 Growth Hacking Tools You Aren't Using but Should in 2018
Small business owners have their work cut out for them. The fact that they're "small" means that they are likely working on a limited budget. And if their intention is to overthrow and overtake bigger companies overnight, then they have another thing coming to them.
Catching up with the curve in your market can seem difficult because established brands have already dominated the scene for years, not to mention the wealth of resources they accumulated throughout the years.  Rather than pushing against the competition, many smaller businesses have opted to leverage their unique skills and creative minds to give their business a different kind of boost using something called Growth Hacking.
Growth hacking is basically an experimental way to approach growing your business.   By trying a wide variety of creative approaches to gain a unique foothold in 'whale dominated markets', this strategy allows smaller companies are able to gain traction with less resources.
While this approach isn't new in the marketing world, the tools and resources available to small businesses are constantly expanding and evolving.
In this post, we're going to explore some of the lesser-known tools you can start using immediately to accelerate your own campaigns.
Cold email outreach can generate more leads in less time for your business than any other tactic out there available.
To launch a successful cold email initiative, however, you need highly-targeted emails. The more targeted your email recipients are to your audience, the higher your chances of converting them into customers.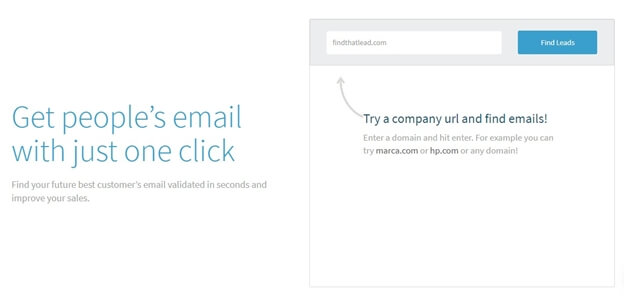 Thankfully, Find That Lead lets you find email addresses on a limited number of Twitter and LinkedIn users. The tool can help show you emails from prospective leads by pasting their URL into the search bar. It also shows the accuracy of the emails so you can use send emails successfully and decrease your bounce rate.
The best feature of Find that Lead is the Prospector. It helps you unearth emails of potential clients using filters. You can get a list of people that match your target audience with a click of a button after setting the location, industry, job title, and more. You can then extract the emails of people whom you will choose from the list.
2. Mailshake
Sending out cold emails using Gmail or any other email client is impossible.
You need to scale and measure your cold outreach campaign with help from an automated tool.
MailShake is one of the best tools for fast and efficient email outreach. It lets you personalize your cold outreach campaign by inserting field replacements from your uploaded CSV file. The tool provides email templates for you to use, so you don't have to start from scratch. You can also create triggered follow-up emails. For example, if the recipient didn't open your initial email, they will receive another email from you reminding them of the first email.
Upon launching the campaign, MailShake will take care of sending the email at intervals. It also tracks the campaign by showing the number of sent emails, bounced emails, and people who replied. All these features will help you automate your cold email outreach and keep on top of things.
3. Unless
Personalization is key to a successful sale. The growth of your business is predicated on your ability to acquire clients and keep them.
Unless takes personalization to landing pages. The tool lets you create optimized landing pages to make visitors feel as if the page is talking to them.
Its Targeting engine lets you customize the content of the landing pages based on rules. For example, if the visitor is from a specific country and was referred by a particular site or channel, then Unless will help you create a landing page that meets these conditions. You can create as many landing pages as you want depending on the rules you will set.
You can track and measure the results of the page variations and determine which among the pages is the most effective.
4, Convertfox
To convert leads into customers, you need to answer their questions and concerns at a moment's notice. How fast and quick you reply to their messages is the fine line that separates a lost opportunity from a successful conversion. This reason is why live chats are popular nowadays. By setting up chat widgets that will appear depending on the behavior of your visitors, you can connect and compel them to purchase your products and services.
This goal is what ConvertFox wants you to achieve.You can create customized trigger-based messages for your live chats that pop up on screen. The tool also lets you profile users so you can provide context to users whom you reached out through live chat. Their information will help you create meaningful conversations with your audience to help increase your chances of converting them.
Unlike other live chat platforms, ConvertFox also has an email marketing feature so you can store your leads into an email list so you can further bring them down your sales funnel. Send a personalized campaign to a segmented list and follow it up with trigger emails to guarantee a response. The extensive reporting features help you make sense of your performance so you can tweak your incoming campaigns for the better.
5. KingSumo
Building an email list normally takes time. You need to gain the trust of your audience by producing a steady stream of actionable content before they relinquish their emails to you.
However, running viral giveaways and sweepstakes may be the fastest way to grow your email list. Everybody loves freebies, so promoting your giveaway to as many people as possible will result in more entries that you can include in your list.
The issue with giveaways is finding the right platform to run them.
If you're using WordPress, then the KingSumo Giveaways plugin is a no-brainer to hold your contests. It incentivizes people who share your giveaway on social media. By sharing, they can multiply their entries and you can increase your email list as more people join your content.
You can run as many giveaways as you wish. Also, unlike other giveaway platform, KingSumo requires you to only pay once, making it the most cost-effective platform in the market. You can enjoy unlimited updates to ensure that the plugin runs with the latest WordPress version.
Pitching your offer to clients can be an arduous task. After sending them a document of your proposal, they will then print out the document to sign it before scanning it again to send it to you. From there, you need to sign the document before finalizing the contract.
This process makes closing deals difficult, which is why you need Better Proposal in your lead acquisition arsenal. The tool lets you create a proposal from a template, so you don't have to start from scratch. It also lets you build your proposal by easily dragging and dropping elements onto the content. You can save the proposal as a template and reuse it to potential leads in the future.
Best of all, once they approve of your proposal, they can easily enter their digital signature on the proposal to finalize the deal. Quick, painless, and easy – no need for printing and scanning documents!
7. Brain.fm
Business success starts from within. Your mindset and approach to your business will dictate how far you'll go from here.
Part of the mindset is your focus and how determined you are to get more things done in less time. In fact, focus is not just related to work – you can focus on getting better rest, getting the most out of your meditation, and sleeping deeper.
Brain.fm is the tool that will optimize your focus on all things in your life. The tool plays music that stimulates the brain depending on what you're doing at the moment. If you play music that is conducive to productivity, then you will find yourself working harder and smarter.
The music played on Brain.fm is validated by aural neuroscientists so you can be sure that your brain is put to work when listening to this app.
8. MissingLettr
Social media management is a crucial piece in connecting with your audience online. You need to post regularly on the most active social channels to keep your followers engaged. You also have to promote your latest posts to increase your blog traffic.
Getting all these things done requires you to devote time and energy. However, you may not have both to manage your social media the way you want to.
If you are time-strapped to commit to social media for your business, then MissingLettr is the perfect tool for you. Once you have a blog post published, the tool will automatically generate images and messages that will be published on your social media. All you need to do is edit and approve the messages before they go live. The message will span within the entire year, so you can expect your posts to be shared all year long to maximize their reach.
9. Lumen5
Video content is all the rage these days. Instead of writing posts, people are turning to creating engaging videos that tell a story about their brand. This method is effective in building an audience, which makes it an attractive option for business owners who want to grow their business faster.
To create videos, they may have to hire professional video creators to produce the content for you. However, you will be at a disadvantage if you don't have the resources to hire one for your business.
Thankfully, Lumen5 provides a more affordable option that lets you create videos on the fly without any video experience. You can tell your story by dragging and dropping images to the editor, typing the text for each section, and using copyright-free music to make your video more interesting.
You can also automatically convert your blog posts into teaser video that you can share on social media. Before publishing, you can edit the video to fit your branding before unleashing it to the world!
10. EpicBeat
Creating content is not difficult, but creating stellar content is. You need to put in the work by researching your market, finding the best performing posts in your niche, and determining the content types that receive the best reactions.
Initially, Buzzsumo comes to mind when talking about a tool that will help you create well-research content that resonates with your audience. However, if you want a more affordable but equally good tool for content creation, EpicBeat is something you should highly consider.
The tool supplies deep insights about your niche so you can find topics and angles that haven't been discussed before. You can also spy on your competition that churns out the best content. Identify factors that make them successful so you can emulate them on your website. Tracking for brand mentions is made easier using EpicBeat. Enter your brand name or your competitor's so you can receive updates straight to your email.
So, which tool should you start with?
While growth hacking will be beneficial to your small business, it is not something that happens overnight. As with most businesses, you need to work diligently to grow your business to the level you're happy with.
At the same time, you need to understand your needs to choose the most appropriate growth hacking tools for you.
For people looking to hack their brains, then Brain.fm is a no-brainer choice to get you started. The tool lets you make the most out of your sleep and waking hours so you can perform at optimum levels at all times.
If you're looking to launch and scale a cold email campaign for your business, then you can't go wrong with Find that Lead and Mailshake. Both allows you to find emails of prospective leads and automate the process of sending emails to them.
Unless and Better Proposal lets you wow your audience by creating beautiful and personalized landing pages and proposals with the intention of improving your conversion rate. Using both tools effectively lets you acquire more clients for your business in less time.
If you're in the business of creating content, then EpicBeat is the growth hacking tool for you.
You can conduct research efficiently and create better content as a result. To top it all off, you can convert your content into video format using Lumen5 to increase its shareability or social channels.
Promoting your content is a breeze using MissingLettr. You can set your social media marketing campaign on autopilot using the tool's generated images and messages ready for publishing.
Building an email list is made fun and easy using ConvertFox and Kingsumo. You can launch viral giveaways that incentivizes people to compel them to join your list. Once subscribed, you can create effective email campaigns that track your performance so you can create better emails in the future. ConvertFox also lets you engage with your leads from your site via chat so you can convince them to purchase your services from the get-go!
Growth hacking is not always easy but the tools mentioned above will make the job much more manageable. Using the ones that suit your business to a tee is your priority so you can elevate your business to great heights – probably greater than  your competitors!